Azra Akšamija, Director of the MIT Future Heritage Lab (FHL) and Associate Professor in the Department of Architecture and ACT, will be speaking as part of Heritage in Peril – Alternative Approaches to Preservation, swissnex Boston and Swiss Touch's special event at the Isabella Stewart Gardner Museum on protecting at-risk heritage.
October 22, 2019
6:00 pm
Isabella Stuart Gardner Museum
25 Evans Way
Boston, MA 02115
Free to Attend; Registration Required
________________________________________________
How do we protect cultural heritage? How do we build future heritage in communities threatened by conflict? How can we meaningfully engage local populations in creative actions that are grounded in ethical practice?
"Swiss Touch Presents: Heritage in Peril – Alternative Approaches to Preservation" will explore these questions with keynote presentations by Patrick Michel of the University of Lausanne (Unil) and Azra Akšamija of MIT, followed by a panel discussion moderated by journalist and author Rania Abouzeid.
The University of Lausanne is home to the Collart Collection, the world's most comprehensive archeological archive of the Temple of Baalshamin in Palmyra, Syria, which was destroyed by ISIS in 2015. Through an international collaboration which digitized the archives of the Collart Collection, researchers at the University of Lausanne were able to create a digital double of the Temple. This has laid the foundation for further research and for alternative approaches to preserving the cultural heritage related to the Temple.
This important archive now meets fertile ground at MIT, where the Future Heritage Lab (FHL) has been spearheading innovative approaches to preservation of cultural heritage through an artistic lens. FHL's work, such as the Memory Matrix project, a temporary monument that translates the images of the Palmyra Arch into an empathetic experience, utilizes participatory art to question the ethics of preservation at the time of war. Informed by critical artistic methods, the Lab's ongoing work with Syrian refugees advocates a performative approach to preservation of cultural heritage, modeling ways of supporting the continuation of the living social practices of threatened communities that underlie the creation of cultural monuments.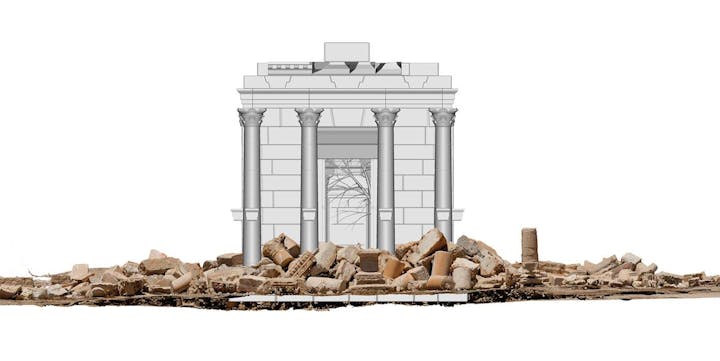 A collaboration between Unil and MIT's Future Heritage Lab now aims to create future heritage. By translating ornamental elements from the Temple of Baalshamin and from Palmyra's rich textile history into contemporary embroidery designs, this collaboration intends to engage both Syrian refugees and students in different countries in creative interpretations of heritage, presenting Palmyra's history of transcultural exchange and identifying creative approaches to preserving the heritage of the now destroyed Temple. A first test workshop of this collaboration will take place at NuVu Studio in Cambridge in October.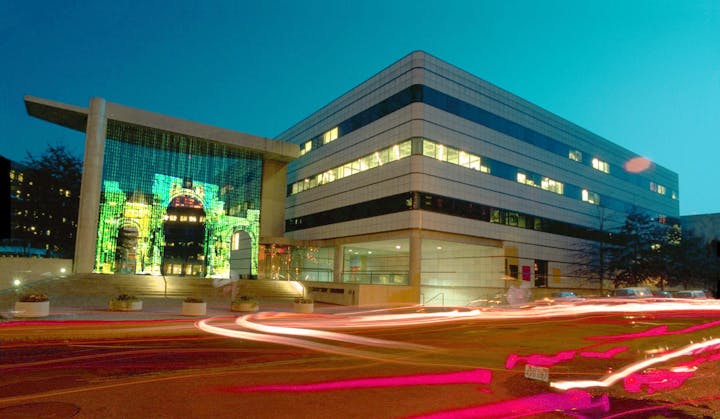 Program
6:00 pm Doors Open – Calderwood Hall – Isabella Stewart Gardner Museum
6:30 pm Program Begins
8:00 pm Program Ends
About the collaborators
The Collart-Palmyra Project was launched in 2017 by the University of Lausanne's Institute of Archeology and Sciences of Antiquity with the aim of digitizing the archives of Paul Collart, one of the most extensive collections of pictures, notes, and drawings from the Temple of Baalshamîn in Syria.
MIT Future Heritage Lab is a transdisciplinary research lab at MIT that invents creative responses to conflict and crisis by designing pedagogical frameworks, artistic tools, and co-creation processes to improve the lives of communities in threat and advance transcultural understanding on a global scale.
NuVu Studio is a full-time innovation school for middle and high school students. Its pedagogy is based on the architectural Studio model and geared around multi-disciplinary, collaborative projects, teaching students how to navigate the messiness of the creative process, from inception to completion by prototyping and testing.
Swiss Touch is an event series and social media campaign pushing Swiss innovation and creative ideas forward, through the participation of prominent Swiss and American stakeholders, a selection of compelling topics and unusual locations.
swissnex Boston creates opportunities for researchers, entrepreneurs, artists, and other future-makers to reach beyond their current capacity and make meaningful, collaborative connections with the top innovators in Switzerland and North America.